Scorpio Weekly Horoscope
From October 3 to 9, 2022
Scorpio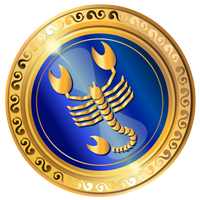 oct 23 - nov 21
Scorpio Love:
The emotional handlings and wanting to absorb to the other will only result in your damage. It keeps for better times the reclamations than you need to do. We are beings who judge everything, to its resemblances, the Nature, the Universe, God… However an attitude of gratefulness to life, will bring love and joy in abundance… The dialog will be fundamental in the affective life, try to obtain the time to obtain it. Beware with having an arrogant attitude or to watch at its partner with superiority. You will have to pay much attention and of the not to commit no act which can regret. Know to conquer to fall in love with yourself with the natural grace that it owns.
Scorpio HEALTH:
Your body asks to you to shouts that a physical activity begins, rests and it is stretched. To be seated at work does not assure rest and to over-work with your body is not a good sport either. Make up your mind to reach a healthier and well-balanced life. The daily communion with your I commit, gives back the elucidation of the ideas, desires and the projects to you, and this process of daily recognition is essential for success. Peace returns and everything returns to normality. The reconciliation with one more a more healthful life will bring great satisfactions to you. Ideal cosmic moment to obtain major changes. Better luck does not exist than the selected salary to take care change of the, to strive in yourself, and after your dreams…
Scorpio WORK:
Take care of yourself of the exorbitant and insatiable labor proposals, it analyzes well his options. Behave yourself as the winner who is, with joy and greatness. One is not confused in the worldly noise that astonishes the real vision of the things. It preserves his working life of the tensions that come from outside, and forms an armor of the outer world for health and joy or your projects. Aside from its way to the people to you they say what to do. It is time to make your own decisions without influence no. Keep yourself besides fights and discussions, do not take those to win. You will need to establish well its priorities not to overload yourself of work.