Scorpio Weekly Horoscope
From February 6 to 12, 2023
Scorpio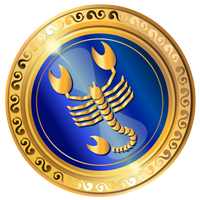 oct 23 - nov 21
Scorpio Love:
A vast kingdom of intelligence beyond the thought exists, and you notice that the thought is only one small part of that intelligence… You will tend to differ with everybody, stop and think that not everybody is wrong today… is not a good day for discussions. You will put in risk the future of your partner, since you will feel at some point that love is finished and at another your time you will feel temptation to opt-in for infidelity. Youngest they will not find consolation to its evils of the heart, more ahead will be able to learn of the experience, nevertheless this week they will have to look for refuge in the advice of friends to surpass the moment, remember that friendship also is love and that nobody this only choose unless it.
Scorpio HEALTH:
A consultation to the doctor cannot wait, do not ignore the reclamations of its partner concerning company or will have worse headaches… If you can a take a rest. It regains the control of your life in the healthy practice of the meditation, the search of happiness and the attainment of your dreams of material and spiritual abundance. Do not ignore to your heartand is dedicated to persecute true goals and positive accomplishments. Do not ignore to the call of your true destiny. The excesses in the drunk meals and can cause the evils majors. The vesicle could become the organ that is suffered more before similar immoderation.
Scorpio WORK:
The negotiations that are approached will leave better than hope, about your will turn it major decision into an excellent negotiator. Good moment for purchase, sale or changes. These are people who need to be creative to be happy. To be naturally creative is the shortest way to found life created bases to image of it and similarity. You will have original ideas for the adjustment or your house, office or places that usually frequents, take advantage of this creative moment. The best companion for some venture related to the decoration: Virgo. The multiplication of its orders is the minimum that can do by the others, as well as the Universe fulfills your desires after long fight. Perhaps think that all will not have your luck nor its force of will, being thanked for with the others is to be thankful to the Universe, or have done something by You and for that reason they softened the way to you.