Love Tarot
There are moments in life, during which we want to know about our love life. In the tarot, there are love cards that are very useful for this type of specific inquiries.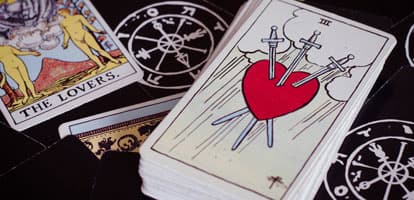 If what you are looking for is to know your love situation or if doubts seem to keep lurking: Is my partner being unfaithful? should I risk everything for this person?, should I end the relationship?, Does he or she really love me? And all other doubts you may have, the
Love Tarot
will give you an objective snapshot of the situation and you can make the best decisions for your future. Make a consultation at our
Tarot of Love
Online, before making a hasty decision, so you can save your relationship or see how the situation is really like.
Love Tarot Reading
Ois for you to know your relationship in general; it will not provide other types of details. If you want a tarot card reading of a different type, you can consult with us.
Without a doubt, there are many factors that influence between the other person and you, for example, signs and compatibility. We must keep in mind not to force anything and not become upset during the tarot card reading, if you do not get the results you want, you must be patient and objective.