Gemini Weekly Horoscope
From January 18 to 24, 2021
Gemini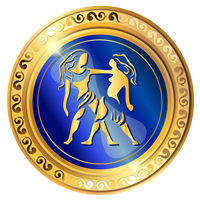 may 22 - june 21
Gemini Love:
During this week love will smile to you. The existing bonds will hold fast already and numerous couples will form, since during this time many will find your ideal person. Beware with his duality, it would confuse about your partner. With Gemini conflicts, Taurus stability and calmness, Aries seduction, Leo good moment for love and evil moment for the businesses, with Virgo difficult times. Recover his confidence in yourself and it resorts to everything what creates necessary to obtain your spiritual growth, infinite source of power and love. The stable couples will consider that it is very good moment to enlarge the family, reason why many of them will receive a baby they will order or it in this period.
Gemini HEALTH:
Everything will work good concerning the health, try to take care of yourself and to follow the recommendations of which they know more than UD Aid of the family. You will have to leave part or your past back, something to you costs and it gives fear him, and the changes that realize will be for good, and in a moment the new features in your life would contribute a greater sense of security to you than the one than it had until now. Ask to yourself: My vital pendulum where was left? If your vital clock advances and you follow unemployed in the same place yourself, with equal habits through time, without modificarte it is that nonincrease… It consults with a homeopath. Subscribe in a gymnasium. Spend more time to take care of your own self.
Gemini WORK:
Taurus he is patient, practical and concrete and can get to be very good partner if the egos are not crossed like horns to ruin it everything. It has a discussion set up yourself and in agreement. Its subconscious mind knows, is stimulated and it appears before You in the form of intuitions, that can choose to follow or no. As today the stars will obtain that the Gemini revives flames causing conflicts and aggressions between couples and subordinates. The Present is its work, it constructs his future today, and it grows every day more to add change tools. Ask to yourself: with intelligence: What Today I require and Now and I have not obtained it, nor sought? It is necessary to give as much authority to the reason?