Cancer Weekly Horoscope
From November 27 to December 3,2023
Cancer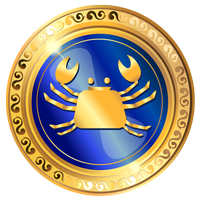 june 22 - july 22
Cancer Love:
The spirit of the enamored ones will be favored by the good humor and the desire to be well, which will help them to bear the different affective bumps that come suffering from beginning of the year. The greatness to live in happiness and abundance is not a situation destined to a few but to all, the problem is that we left the way of innocence, we tried to surround itself by security, forecasts to future, stopped situations of certainty in the time and… we lose the capacity of astonishment, the creative capacity, the permission to change of course, the possibility of seeing the daily miracles and the coincidences that offer opportunities for growth to us spiritual and material… If it has affective relation with people of Leo deals with not irritating them, they will show its claws and it is not good for causing disputes. If it has a romance with everything Pisces tailwind will go. About your great it will remove it intellect from problems…
Cancer HEALTH:
Beware with temperature changes. It strech out deals with and enjoying moments outdoors. A good meditation on the recent events days can to you be clarify the panorama of the days to come. It impels it to the Universe to grow of permanently and it gives daily miracles to him that are opportunities of change for their life. It is ideal moment to realize or to plan trips. The changes can generate inconvenience, tries to adapt because they are for good and they come from the hand of good omens and gifts of the Universal… Its bad humor does not contribute to facilitate the things, is good moment to leave outdoors to strech out and trying to strengthen its confidence in yourself and the future.
Cancer WORK:
Good day for sales, better for purchases and all that to the projects of businesses. To think before signing and long before deciding, nevertheless today can get to make major decisions. They will be successful if it uses its intelligence instead of its egocentrism. It judges and criticism without being able to pause, losing therefore the creative faculties of a better future, wasting time valuable to be happy. The planets cause the change of address, of place of work, of place in the world, a physical changeover that it does not try to be a fundamental change, only of site or ground, but noninner. Excellent moment to realize an adventure trip.