Cancer Weekly Horoscope
From October 3 to 9, 2022
Cancer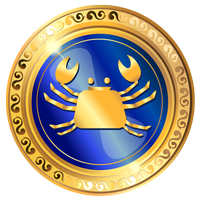 june 22 - july 22
Cancer Love:
You will have to resort about your very good heart and to learn to pardon, although not always is right in a discussion its great ego usually plays to you bad past. The other also must right to win sometimes, and to be mistaken others. In spite of being extremely communicative in this day you will feel desires to isolate yourself, that you will have to that the insecurity will make prey of UD and you will not be able to be expressed his deeper desires. He is a moment ideal for singles, can find its love or to program yourself at least for it, often harden being only in the soul and is not allowed to enter more to anybody.
Cancer HEALTH:
Take care of yourself of the solitude like of the diseases, it is good day to begin open to the heart. "Give to me beauty in the inner soul, that the inner and outer man is one only". Try to brood this phrase during the day and draws a conclusion before going away to sleep. Use this phrase to help yourself to solve any problem that appears today. It goes to her by advice. Repeat it to needs who it. Day is its phrase of the. It comes in his aid. These native ones will let of side your social life to dedicate yourself to the home. Do not neglect his diet and try to take care of Sun of the.
Cancer WORK:
Forget about your whims and obsessions. Do not be irresponsible, take your time to meditate before acting. You need a business partner. The art is creativity and is, simultaneously, the expression of the truth par excellence. You deal with not becoming jumbled with people for superficial reasons. That its ring of friends is extended conscientiously, of this form will grow thanks to them and its influences. You will receive unexpected favors and you will have luck generally. With great power of seduction, today you will obtain what it has tried for a long time in the loving plane. Spend a time to solve a riddle that paradoxicalally will accelerate a lengthy work.