Categories to do a card reading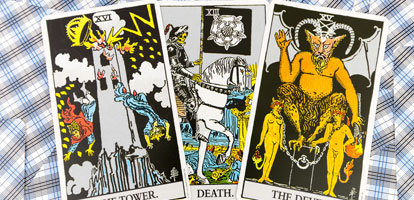 There are several techniques
that can be used to do a
tarot card reading
, much of it depends on the reader''s experience and in general, each reader develops their own technique.
But in general there are three main categories
to do a reading:

Intuition, Precision and psyche
.
The precision reading
; any person can perform this type of reading because what it takes is just to memorize the meanings of each tarot card and the strict meanings of the type of spread depending on the location of each card. This technique is usually very strict and very commonly seen being practiced by beginners, but we do not recommend doing this type of reading. This is a method not to be used always, but after this first step one should continue on to developing other methods.
The intuition method
, as the word says it; intuition is used by the reader in order to guide the card interpretations. Intuition is an ability we all have, although, some people have it more developed than others.
Tarot readers
have a wide capacity of intuition and are capable of reading the ethereal and translate its meaning. In doing the reading, the card meanings are read but with the intuition, one can see the real meaning of the card.
The psyche method
is the psychic reader''s ability to see things or sense what another person is feeling. Of course not all have this ability developed. If the person doing the reading has the ability developed then, the outcome of the reading would be excellent and would be of great advantage.
For the best reading possible, it will depend on the querent, because the confidence and willingness to take part in the reading is crucial, as your own unconscious mind is the one that dominates the situation and is giving the information through the
tarot
and the reader is the means by which the information is converted.
The reading of cards
is one of the most accurate techniques of divination of the future that will give you the knowledge you need to deal with situations and to face them in order to obtain the best in the future. You will have to ask concise questions and be clear beforehand about what you want to know.
The tarot
has been practiced for centuries around the world and by all cultures. It has been a very effective method to resolve certain situations and to obtain a prosperous future.