Tarot card readings online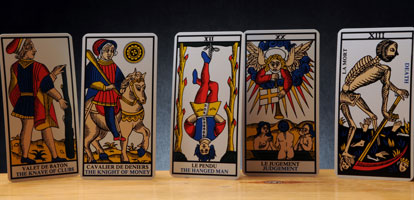 The online tarot
is one of the most consulted at the time of spreading the cards, whether it''s a matter of time, convenience or access to readers that we are most interested in, without the barrier of long distance.
Online tarot readings
help you obtain a good reading at the moment that you are available.
It is not necessary for the reader to be in the same room with you. The readers are able to connect with you wherever you are and whenever you want.
They connect
through what is called "channeling", a process in which the energies connect both the reader and yours.This is how the
the online tarot readings
are still as accurate as the readings done in person.
While getting an online
tarot reading
you will feel more confident, even more than if you were having a reading in person. You will feel more comfortable and relaxed than going to a tarotist in person. Keep in mind that trust is one of the biggest factors at the time of having a
tarot card reading.

Many people assume that during an online tarot reading, that control is lost and that it is not synchronized but that is far from the truth.

During the reading there are certain energies which are read by the tarot and translated to you by the reader, so your subconscious is who is transmitting the information through the energy channel of the reader.

Online tarot readings can be done in different ways, so it is important to find the right tarot for you and the type of consultation you wish to make. Therefore do not hesitate to consult at TrueTarot.com the type of question you wish to make in order for us to give you the choice of an appropriate reading for you.

Undoubtedly, online tarot readings are very reliable and are designed to bring comfort and ease while getting a reading. You do not have to wait for a certain day. If you are nervous, simply relax in the comfort of your own home and that way the channeling of energy with the reader will be harmonious and providing a most favorable reading.