The world Card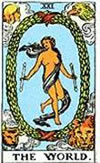 The World
is astrologically related to the sun. This card helps to recognize times when we feel like rulers of the world, in any circumstance.
The card represents a time of abundance; something that could be the most important component of happiness, in a harmonious whole.
It also symbolizes the fact that we have goals to which we must make satisfactory progress. As this is a very positive card that says the person who consults have the power to do what he or she longs for, even though what they want to do greatly depends on vital and personal and personal circumstances.
As for emotional issues, it reveals that the person is happy, especially with your partner and the environment around them. Even if you have plans with your partner, they may be fulfilled in the short term.
Therefore, the world card is of success and happiness, it indicates that goals can be achieved as long as we learn to master the situations as they arise.
If this card appears upright, it signifies independent success of difficulties, travel, social recognition and much prosperity.
If it is inverted, it means prosperity and failure of something you already had. It also means that we have no ability to successfully complete certain studies or jobs, difficulty, obstacles, a rarefied atmosphere and even sacrifice in the name of love.
The key words for the world card:
achievements, rewards, passed exams, satisfactions. In the area of health, it represents physical and mental strength and without disease.