The sun Card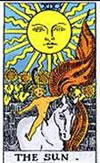 The Sun
card is astrologically related to Gemini. For many it is one of the best cards of the tarot. From the beginning of time, the sun has been revered as a source of life, light, heat and energy that gives life.
If this card appears to a person who is having a tarot card reading, he or she must have great confidence in himself or herself; an inner light that radiates outward and illuminates all around them including the people with him or her.
In matters of love, the card indicates that one is very happy with the current partner and both of their wishes will happen as they want. This is a card of great joy.
If the card is upright, it means joy, achievements accomplished, success, triumph, positive intelligence, very happy loving relationships and rewards.
If the card appears inverted, it means that a relationship may have difficulties due to third parties. It also indicates vanity, postponed or delayed missions, loneliness, difficult times that are not very favorable, which may render our plans and loss of material things.
If the sun card appears next to the devil card, this indicates satisfaction in sexual relationships and if it comes out next to the hermit card, this will indicate that someone is hiding something and will be unmasked.
The key words of the sun card are:
happiness, success, vitality and protection.