The Magician Card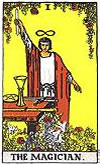 The Magician card is
astrologically associated with Mercury. It symbolizes that the person requesting the reading of cards is gifted to succeed for whatever he or she wants to accomplish, they has power in their hands but they need to be persistent in achieving their goals.
It also indicates masculinity without fear of acting and wants to exploit the forces of the universe to use for creative purposes and unload his or her energy on earth, very powerful.
If the card appears upright, it means skill, diplomacy, openness, confidence, creativity and love in the love matters we have the possibility of choosing between different suitors, being a person who inspires and brings out muses, as we are very captivating and possessing great charm.
Vitality and daring, ready for whatever. It is highly unlikely that we will fall into a state of depression.
If the card is inverted, it means indecision, insecurity and lack of originality, blackmailer, swindler who takes advantage of innocent people, lacking in will, tendency to destroy and deception.
If the magician appears next to the devil, death or the tower card, it could indicate black magic spells, but if it appears inverted next to the of lovers card, it symbolizes transient infidelity.
The key words of this card are:
will, constant movement, mastery of elements and eloquence.