The lovers Card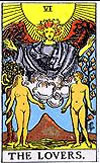 The Lovers card is
astrologically related to Taurus. Logically the lovers symbolize love, sex, sensuality, strong bonding, real and enduring.
The Lovers card speaks of a love-based union that could be without sex.
The selection between of two lovers, break-up or union. Similarly it could refer to a great relationship of a group or society, not necessarily a love relationship. It also indicates a person's internal conflicts by having to choosing between right and wrong.
In matters of love, the card symbolizes the choice between two people.
If the card is in the upright position, it represents love, physical attraction and sensitivity about art, marriage, romantic temptations and difficulties.
If instead the card is inverted, this will indicate divorce, separation, marital problems, failures and temptations that could lead to infidelity.
When this card appears next to the hermit card, it indicates a love infidelity; if it comes up besides the world card, it means that a relationship will be known and if the card comes out after the lovers card, it signifies marriage.
The key words of this card are:
partner, evaluation, selection and free will.