The Hermit Card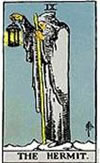 The Hermit is
related astrologically to Aries. It symbolizes the desire of inquiry and internal reflection; searching alone to find answers within yourself, meditation, getting rid of items that are too much to have and moving them out of our way; the need to reflect where distractions and unimportant things are not welcome.
Represents, search, in order to understand any circumstances and on the other hand, it could mean whether to move away at a specific time.
It also states that when we obtain important help, we too can help others.
In matters of love, the hermit card indicates that a bit of alone time alone is always good, and it is often necessary to move off in time to reflect on the relationship.
If the card is in the upright position, this indicates depth reflection, meditation, prudence and vigilance; taking things with calmness and with great concentration.
If the card is inverted, this indicates lack of maturity, sociability and pessimism that prevents coping with problems.
If this card appears next to the lovers card, this indicates heartbreak and if it appears at the side of the death, the tower or the moon card, then that could indicate danger of diseases.
The words that characterize the card are:
thinking, severity, prudence, and time alone.