The Hanged Man Card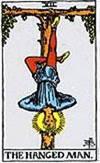 The Hanged Man
It is one of the tarot cards that represents more mystery; much duplication and at the same time it is simple and has a very complicated profile. Even though it is not very attractive, it is said to be very discordant and indicates the extravagance that presents itself in many occasions in life.
It may also represent truths but with opposing things and hidden in the interior.
The Hanged Man is shown as a card showing how we wish to act sometimes but also having to wait for a certain time to do so. This contradiction will help you find what you seek more easily.
In matters of love, it means that the situation will be very stable over the coming months.
If the card in its upright position it also indicates a personal sacrifice, hard to break situations, search and solution to a problem.
If, however, the card is inverted, it may indicate accidental death, unjust accusations and projects that will fail and will not be carried out.
When the hanged man card is next to the devil card; that means there is a danger of insanity. If the card comes out next to the sun card, this will indicate unexpected luck and if the tower card is out next to the tower, then that means diseases.
The card is astrologically related to the Taurus sign.
The words that represent the hanged man are:
sacrifice, heroism, resignation, initiation and expiation.