The Empress Card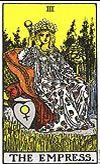 The Empress is
astrologically related to Sagittarius. This card represents a fertile woman who gives her rhythms to the world, the senses in her are her satisfaction and delight.
This card indicates a great connection to the base of the human being that is the nature and reminds you to keep your feet planted on the ground.
Also, the Empress represents the abundance and material reward as long as one is willing to share the wealth.
In sentimental matters, it represents a good and beautiful woman who is very attractive to others.
If the card is upright in position, this indicates a solid basis for promotion in the future, equity, conflict resolution, creativity and honest and faithful woman.
If the card appears inverted, this could mean an unwanted pregnancy, courtship, conceit and lack of concentration.
When the card of the Empress makes an appearance beside the star card, it means you have the protection of a woman and if it appears next to the moon card, this will be indicating an unwanted pregnancy.
The words that identify the card are:
intelligence, imagination, fertility and seduction.