The emperor Card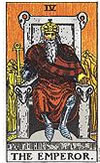 The Emperor its
astrology relationship is Aquarius.
This card symbolizes order and a great confidence in the jurisdiction to impose rules.
The emperor could represent at any given situation the need for order at all costs and organizational chaos.
Similarly, it indicates dominion and control, associated with legal matters.
In sentimental matters, it means that the fate is in our favor. In addition, this card represents a stable situation with a solid base and speaks of highly respected individuals; it also talks about triunphs, signature of contracts of great importance.
If this card is inverted, it indicates lack of ambition, conformity, loss of property and immaturity.
If the emperor card comes up besides the justice one, then that means respect for the law, but if the card of justice is inverted, it means the opposite, that is to say, injustice.
The key words of this card are:
masculinity, manliness, stability, and material power and self-control.