The chariot Card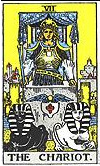 The Chariot.
It symbolizes the triumphs obtained after much effort and above all, lots of energy.
The chariot is associated with behavior, stability, control, delivery and decision, in the truest sense of these words. It also indicates the stable and powerful person who knows how to guide others through complex situations and that is not capable of defraud or betray those who trust in him or her.
Similarly, it is a card that points to triumphs and even in matters of love it indicates happiness and the beginning of a voyage to be the most loved.
If the card is in normal position, it represents progress, influence in convincing a person with great skill. It also means that it is necessary to get to know the opponent to defeat him and much tactic to govern justly; it also indicates travel, change of place, progress, fame and popularity.
If the card is inverted, it represents failures, collapsed plans and stalled projects.
When the chariot appears next to temperance, this will be indicating a successful trip, but if the temperance card is right side up, it could mean sickness or postponed travel.
The card is astrologically related to the Cancer sign.
The key words of this card are:
triumphs, movement, travel and energetic action.