Strength Card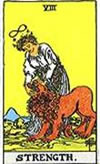 Strength has
an astrological relationship with Aries. This card symbolizes all the internal forces and therefore represents the tenacity, fight, strong and precise character and courage to resolve disadvantages.
Helps whoever makes a request for consultation to present a tough character when situations become dangerous.
It also symbolizes patience when things turn evil, it is essential to have strength to resist. Sometimes it indicates compassion, tolerance and the strength of love.
In emotional matters, it symbolizes risk and firm conversations if the situation is favorable.
If it appears in the upright position, it represent that difficult situations will become favorable for the one who is consulting the tarot cards. It also indicates power, strength, courage, conquest and difficulties that can be mastered with faith.
If the card is inverted, it is indicating Instability, cruelty, courage, absence of faith, oppression and surgical operations.
When the Strength card appears next to the tower card in an inverted position, it could indicate chaos in society or danger of fire and if it appears next to the chariot in the inverted position, it signifies surgical interventions or accidents.
The key words of the Strength card are:
spiritual strength, wit, mastery, achievements and confidence.