Stone properties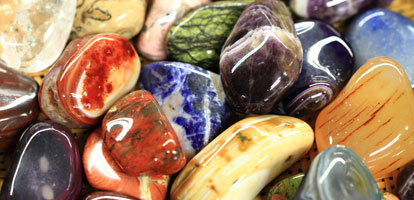 Magical and esoteric characteristics of stones.
Agate
Agate helps us be more willing, contributes to physical and emotional balance. It is used in digestive problems.
Aquamarine
Symbol of hope and peace; it is the gem of sailors and travelers. The aquamarine stone provides protection against toothaches and sore throat.
Amethist
It stimulates and relaxes the mind. It is a powerful stone and relieves pain and also physical, emotional and psychological tension.
Jet Stone (Black Amber)
Great shield against negative energies and helps to overcome problems caused by witchcraft or black magic.
Beryllium
Gives joy and relaxation; rejects dreams. The beryllium stone use is suitable for eye problems and throat and eye conditions.
Coral
Coral symbolizes the energy of the vital force. It connects with the depth of oneself.
Cornelian
The stone provides increased joy and vitality. Helps during pregnancy and normalizes childbirth by relieving pain.
Pink Quartz
Emotional balance, gives us confidence, love, feelings and kindness. It is used to attract love.
Diamonds
Offer peace, constancy and fidelity. The precious stone protects us from negative spirits.
Emerald
The Emerald restores mental, physical and spiritual harmony. The stone has properties for healing of bones in general.
Garnet
It provides constancy, honesty and generosity. A garnet stone would incline us to lasting unions and fidelity in love.
Jade
Jade is for good fortune and luck in business and gambling. The stone is beneficial when there are problems with the eyes and kidneys.
Jasper
Jasper balances the body''s energies. Healing powers are attributed to this stone; it was used as a remedy for fever in ancient times.
lapislazzuli
This stone gives power of imagination. It is good for the brain and adrenal glands. The stone also gives courage; provides security and protection.
Onyx
Focuses your energy and improves concentration. Helps strengthen the immune system.
Opal
This stone is effective against insomnia. It is good for the conditions of the eyes and heart illnesses.
Moonstone
Clears the mind to help soothe and balance emotions. Moonstone helps menstruation problems.
Ruby
Ruby stones activate the power of love and raises self-esteem. It balances blood pressure and strengthens the heart.
Topaz
Topaz symbolizes sobriety, clemency. It gives us health, happiness and love. It is an indicated stone against hatred and revenge.
Turquoise
Harmonizes feelings, gives strength, balance and vitality. Provides fortune and happiness, also protects against the evil eye.
Tourmaline
Increases our energy and gives us more charisma. It is suitable for the protection of children, the home and plants.
Sapphire
This stone provides encouragement, joy, loyalty and trust. It also gives protection to people that are in love.